CONTACT
"Building a Quantum Computer & Internet is really multidisciplinary. There is no field of study that teaches Quantum Computer Sciences yet, so everyone joins in from their own background. While building the quantum computer, we are creating a new field of science."
– Jonas Helsen, PhD student at QuTech –
The team of QuTech Academy is passionate about educating the quantum engineers of the future. QuTech Academy develops activities for attracting and educating top talent for QuTech's research activities and for the future quantum technology sector. Read more
Feel free to contact us if you have any suggestions.
We are located at the Delft University of Technology, Lorentzweg 1 in Delft. When you come to visit, you could follow these travel directions.
Students
For general questions (VISA, housing, language requirements, technical difficulties with your application), please contact contactcentre-esa@tudelft.nl.
For questions about the MSc programmes at the Faculty of Electrical Engineering, Mathematics, and Computer Science, please contact msc-eemcs@tudelft.nl and for the MSc programmes at the Faculty of Applied Sciences contact msc-tnw@tudelft.nl.
Answers to many students' questions can also be found on the following pages:
Organizations and Collaborations
Examples of our current and previous collaborations will be presented on this website in the near future. If you are interested in a collaboration with QuTech Academy or just want to discuss the possibilities, please contact us!
Contact
If you have any other questions please contact Grazia Bastasin: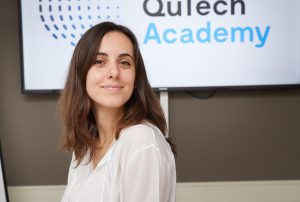 Grazia Bastasin
Program Manager QuTech Academy
info-qutechacademy@tudelft.nl